Gadgetoff 2007 -

Overview

Press

Videos

Photos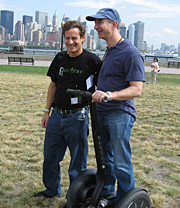 "Their goals are unabashedly patriotic: They care deeply about quickening the pulse of American innovation and keeping the U.S. in the race with Asia for engineering prowess. Five years ago, they decided that one way they could spice up the idea flow was to invite some of
the smartest tinkers and thinkers
they knew
for a throw-down of ideas
"
"There are very few places where people who do radical, dangerous things can get together and share them"
"...breathtaking array of ideas and technology... smart dominated. Among the luminaries who waltzed on stage for conversation were artificial intelligence godfather Marvin Minsky, Boston Scientific founder and billionaire John Abele, Oxbridgian longevity messiah Aubrey De Grey (who's got 536 friends on Facebook), Tesla Motors founder Martin Eberhard, sculptor Chuck Hoberman, Sims creator Will Wright, genomics pundit Juan Enriquez and computer scientist Sandy Pentland from the Massachusetts Institute of Technology"
"Other conference goers, many of whom are Gadgetoff regulars, also shone: including Amazon's Jeff Bezos, TED conference founder Richard Saul Wurman, computer engineer Danny Hillis, polymath inventor Dean Kamen, sly literary agent John Brockman and Creative Good's Mark Hurst"
Forbes - October 11, 2007 - Bruce Upbin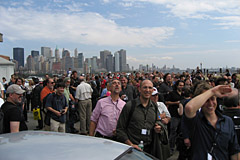 "Gadgetoff, perhaps the coolest geek conference on the planet, just passed through New York City. The demo session was a confluence of brilliant new technology, funky robots, cool art, and wonderful goofiness---all fitting the slogan "bringing the smart and the useless together." When the demos weren't going on, it was the kind of place where bananas roasted under a flame thrower were served to a crowd that included Dean Kamen, Jeff Bezos, and Marvin Minsky"
Wired - October 4, 2007 - Nick Thompson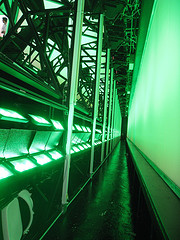 "I spent Friday at Gadgetoff, a sort of mini TED with things you can touch. I've never been to a TED and not being part of the cult, it seems that a lot of it is in the clouds. I prefer being in a group of people making things."
"What struck me was just how wonderful it was to be in the company of innovators and inventors — and the other friends of mine they attracted from many worlds: TV, news, investment. Sure, some of the work is just theoretical and some of it impractical. But tucked inside groups like this are the people who really can and will change the world"
Buzz Machine - October 1, 2007 - Jeff Jarvis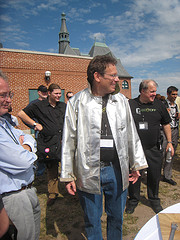 "Whoa, bang, boom, yikes, aha! That about sums up my experience at Gadgetoff 2007. What a mind torching adventure with a surplus of surprises, ear wrenching explosions, curious minds, and a safari into a wonderful world of gadgets we all love to geek about! Everything from flame throwing bbq's, rocket bikes, robotics on wheels, and hybrid cars roamed every corner while gaming devices, weird toys, numbing food items, interactive screens, musical instruments, and hot air balloons filled up the rest of this landscape of greatness with people from all ages and disciplines"
"Gadgetoff's spontaneous flow of events kept you on your feet, jumping from boats, to buildings, into a rustic railroad house, and a cool science museum while somehow getting us all to sit calmly in an auditorium for several intellectually stimulating lectures. We were a geek fest storming the town in fashion with electronics in every pocket, Segway's leading the crowd, and individuals rifling with excitement on anything cool and usually out of the ordinary"
DesignVerb - October 17, 2007 - Aaron Tang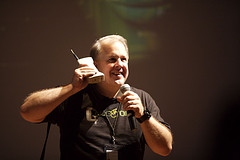 "Gadgetoff was awesome. Many thanks to the Dubnos, who have turned a small get-together with their friends into a smashing event. I flew in on the redeye, so I was pretty tired, but it was great to see old friends as well as all of the great exhibitors and demonstrators. Really well done"
Sifry's Alerts - September 28, 2007 - David Sifry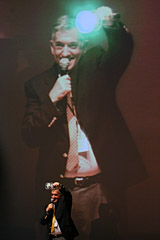 "After that came the boat ride to Liberty State Park for some outdoor demos and lunch, followed by a blinding array of presentations at the Liberty Science Center"
"...I found a thoroughly unexpected surprise. Sitting next to me as I ate my box lunch was Joshua Klein, who would later show off a machine he designed to train crows to pick up spare change. It's a gizmo that first gives crows peanuts and coins together. Over time, it is meant to show them how to drop coins in a slot to get the nuts. Don't call this useless, he insisted "there is $216 million in lost coins every year," he said."
"...there was also real science, still mixed with offbeat humor..."
"The possibilities for mischief are endless"
"Even the refreshments had an odd experimental quality. One bar asked you to sign a liability waiver before handing you a glass with an luminous pink cocktail. It rather quickly turns blue in the glass."
NY Times - October 3, 2007 - Saul Hansel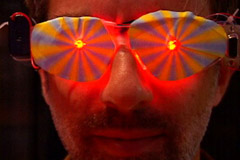 "When we heard that a bunch of creative geeks were showing off their new inventions at Liberty State Park for Gadgetoff 2007, we dispatched New York's Tim Murphy for a sneak peek. Do feel-good glasses work? Is grilling with a modified blowtorch better than coals? And is the rocket-bike as cool as it sounds? Watch the video for more of tomorrow's gadgets today. It's like Real Genius come to life"
New York Magazine - October 1, 2007 - Tim Murphy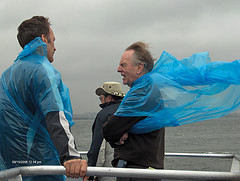 "...Thus was born Gadgetoff, an annual convocation of like-minded gear-heads. It is an exclusive, sub-radar affair that is devoted, as the motto goes, to "bringing the smart and the useless together." To get asked back, you had better show up with something neat-o. If someone bombed Gadgetoff, the future might cease to exist, or look too much like the present. "
"There was something wonderfully incongruous about turning these futurists and their toys loose on the grounds of a derelict military base. The Gadgetoff headquarters, and any gizmos that could fit through a door, were in the Admiral's manse. A program of show-and-tell bits, each three and a half minutes long, was held in an abandoned church. Scattered about the island and its shores were four submarines, a helicopter, a hot-air balloon, and robots of various sizes and intents. Segways sped to and fro in the mist. There was a self-balancing skateboard, a smokeless cigarette, wicked-cool folding thingamajigs, and magic lock-picking keys, as well as presentations on a jet-powered Volkswagen Beetle, the growing sport of rocket racing, driverless S.U.V.s, and computer printers that "print" 3-D objects. "